Great news for people who love anime figures and collecting these items. Well, if you are a fan of collecting anime figures, you are about to enter paradise for anime lovers with our Top 15 Best Japan Anime Figure Stores.
Anime is now part of Japanese culture. Many people are fans of Anime worldwide, and like you, they spend lots of time collecting Japanese anime figures. That's why we're here, to give you a tour at these best Japanese Anime figure stores.
1. Animate
Animate is one of the most famous anime and manga stores in Tokyo, Japan. Most anime lovers have been at Animate or heard about it. Animate is an anime store chain. They have different shops in Tokyo. Many people said that they are on the list of the biggest and main anime figure providers here. Among them, the store located in Akihabara is the most well-known. 
At this store, millions of anime merchandise are sold. You can find from small items to large items, popular items to rare things that you can't find anywhere. You also see many things related to unwell-known anime, too. Animate is the world of anime. If you are in Tokyo and trying to search for some anime merchandise, Animate is the first store you should visit.
2. Mandarake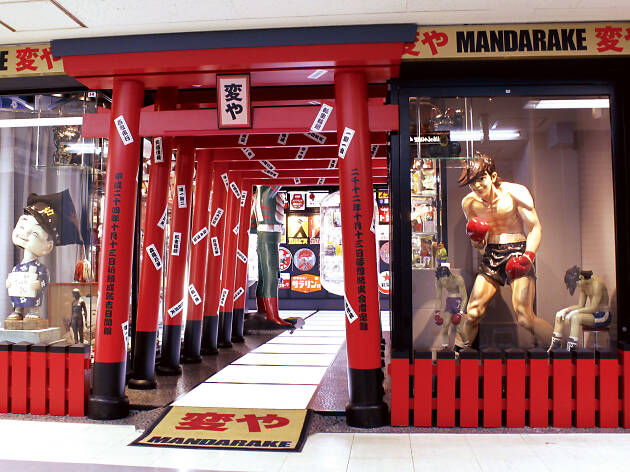 Mandarake is not just one anime store. This is a chain of anime stores. They have two stores located in Nakano Broadway. These stores are decorated very well, therefore you can take many nice pictures when you visit them. Mandarake is very ideal for models and photographers.
But the most special thing is tons of anime and manga merchandise. Many kinds of merchandise dedicated to anime, mangas are here for you to choose from. They have many interesting figures. And some of them are limited editions. Very interesting when you spend time walking around the store and find out something you love. 
3. Gachapon Kaikan
Gachapon Kaikan is not a typical anime figure store in Japan.  But this place is still one of the great places to visit for anime or manga lovers. You have the opportunity to receive gifts in a surprising way from Gatchapon. 
If you don't know what Gatchapon is, let us show you! This is a machine that is very popular in Japan. You put a small amount of money into this machine and receive a gift for an exchange. You have no way to guess what the next gift for you is. So, you have a fun time when you exchange the gift with excitement. And nothing is greater than the figures or merchandise related to your favorite anime character.
4. Pixiv Booth
Where are hundreds of Japanese artists sell their creations? Where can you find millions of merchandise related to doujinshi culture? It is Pixiv Booth. They are the most famous eCommerce website in Japan. 
This site offers a vast collection for animation and manga fans. Fans can buy unique items such as phone cases, T-shirts, keychains…All of them are dedicated to doujinshi culture. You also have a chance to make preorders for something new and unique. 
5. Toy Barn
Many of you may not know this store. And you may think that it is not worth visiting and shopping. If you spend a little time popping in Toy Barn, you will change your opinion. This anime figure store is very great. A wide variety of small japan anime figurines is sold here. They are made dedicated to Shonen Jump anime, such as Naruto or Dragon balls. If you read these anime and love them, you feel so good to be at Toy Barn. 
They are small but special figures. Some of them are second-hand anime figures. But it is not a problem because they are of good quality. And you have a chance to purchase good merchandise at a fairly good price. It is so amazing, right?
Besides small anime figures, Toy Barn also provides large figures and small other items, such as keychains….We bet that you wish to buy everything when you are here. An unwell-known store is no problem. The problem here is you have enough money to take all of them out of this store or not.
6. Comic Toranoana
People also call this place Toranoana. Comic Toranoana includes many different stores and a popular site. Any manga and anime fans know about this place. Every day thousands of customers visit their online store. 
Toranoana is a chain store, so you can find stores that close to you and visit easily. They have specialized in merchandises related to manga, anime, in other words- doujinshi culture in Japan. Toranoana offers you novels, video games, CDs, mp3. They have many rare or second-hand doujinshi products. Visit the site and have a good time!
7. Lashinbang
You take the Yamanote Line to Ikebukuro station to reach to Lashinbang store. This anime figure store is located on Otome Road – one special road. For your information, Otome road is famous for anime and manga. A lot of anime figure stores are here with tons of anime merchandise. 
So, what is the special thing in the Lashinbang anime store? You can save money so much when purchasing small anime figures here. They are in the sale. Buy it at a great price and add many interesting, unique figures to your collections. Or choosing a small japan anime figure as a souvenir for your Japan trip is a good idea. 
Lanshinbang also provides some rare anime figures. You spent much time finding figures of your favorite characters, but nowhere to see them? Don't worry! Try your luck once at Lanshinbang. Many anime figure lovers are surprised and very happy when they realized that what they are finding is here.
8. Melonbooks
It is not a store that specializes in anime or manga only. And they are a chain of book stores that includes 24 locations and an online store. Melonbooks was found in 1998 and has become the ideal place for doujinshi goods. 
They also sell second-hand items. You can find here tons of goods related to anime, manga such as anime figures, anime CDs, anime or manga magazines, and games. It is the reason why this book store is on the list of the best anime stores in Japan.
9. B-Point Store
The B-Point store is located in Shibuya City, Tokyo, Japan. You can call this store a general anime merchandise store. Everything related to Shonen Jump animes is at this store. They have millions of things for anyone who is a fan of animes such as Naruto, Haikyuu, and many other animes. You have the opportunity to choose and purchase many kinds of merchandise. A T-shirt or a book can be chosen. It is right to purchase pins or magnets at this store, too. 
The B-Point store is not a specialized store that sells only Japanese anime merchandise. This is a convenience store. Therefore, you come over to this store and shopping with friends or someone who are not anime lovers. And they don't feel uncomfortable with this.
10. Mugiwara Store
One more anime figure store in Shibuya, Tokyo is the Mugiwara store. Do you love read One Piece? This anime is very famous in the world, right? If you love it, we are sure that you feel happy and excited when you are at the Mugiwara store. Tons of merchandise dedicated to One Piece that you can find here. Some of them are very rare and unique. Some of them are manufactured with a life-size. And you are allowed to take your unique and cute pictures with such figures. You have no chance to find it in other anime stores. 
So, many people said that the Mugiwara store is a paradise for One Piece's fans. If you are a fan of this anime, you definitely must be there one time. Even when you are a tourist who has a tour to Tokyo and wants to understand more Japanese anime, Mugiwara is somewhere you should check out. 
At the Mugiwara store, you don't just browse the anime merchandise, but also have a happy and relaxing time with friends. And you also have nice pictures kept as memories.
Here is Mugiwara store's information:
1-23-10 Jinnan, Shibuya, Tokyo 150-0041
Website: http://www.mugiwara-store.com/store?hl=en
11. Kotobukiya
Do you love anime figures made of plastic? If so, you should visit the Kotobukiya website and find a lot of things you want. They are the leading worldwide company, so Kotobukiya offers not only anime or manga figures but also merchandise produced based in Western such as DC, Marvel, even Star Wars. Besides figures, they provide customers other items: keychains, rubber straps…Kotobukiya website – https://www.kotobukiya.co.jp/ is worth visiting when you want to explore the anime world.
12. Premium Bandai
If you want to have anime figures or many other things related to doujinshi but they are limited edition, even super limited ones, don't forget Premium Bandai. This company is on the list of the largest toy manufacturers in Japan. It is the reason why they usually have exclusive licensing rights to popular franchises. You can find a lot of these popular franchises on  Premium Bandai's website. Visit the website https://p-bandai.jp/contents/global/ and choose your favorite items such as Japan anime figures, accessories, fashion, and other things. 
13. Jump Shop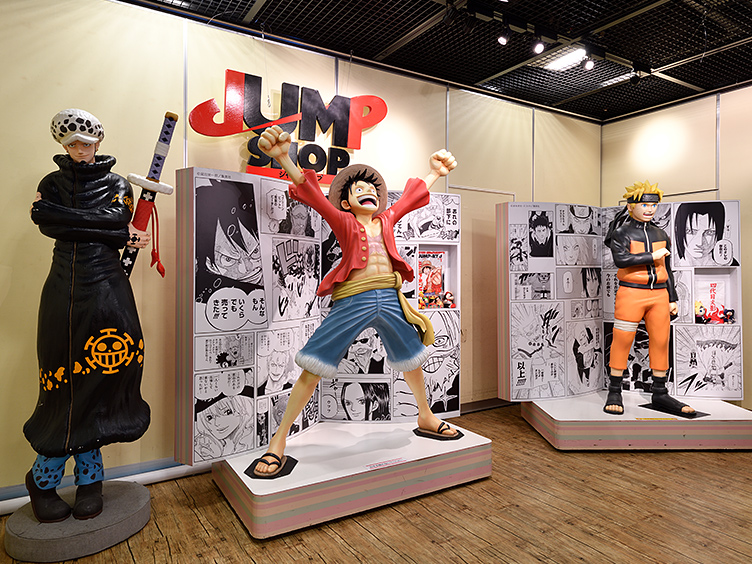 If you are searching for anime figures, or you just want to admire figures dedicated to Shonen Jump anime, the Jump shop is the best and right place for you. You can find a variety of anime figures and many different things related to anime. 
Items at Jump Shop are dedicated to legendary animes such as Naruto (do you know this story? It has been being famous until now. When I was a child, Naruto was one of my favorite animes), Dragon Ball Z, Demon Slayer or Haikyuu. All of them are very famous not only in Japan but also in many countries in the world. 
You can find many things else dedicated to other animes. For anime figure collectors, Jump Shop is a paradise.  Everything is of high quality and sold at a reasonable price. And they are authentic totally, not fake. If you are an anime figure lover, note this store – Jump Shop on your list to explore the world of anime figures in Japan if you have the chance to be there.
14. Surugaya
The second last name on the list is Surugaya. This website offers many kinds of things related to doujinshi culture in Japan: CDs, DVDs, apparel…Even Surugaya allows you to preorder items that have not been on the market. This website is also an ideal place for you to search for used items. Visit the website to choose what you love. 
15. Otamart
You want to find a P2P marketplace for doujinshi merchandise, click the link https://otamart.com/. Japan anime figures, video games, toys, or many other things related to this part of Japanese culture, are at Otamart. 
Otamart is well-known as the dream world for anyone who loves anime, manga. Customers can buy rare items related to pop culture in Japan. With a variety, Otamart is the right place to make anime lovers' collections more worthwhile.
So, you have got a useful list of the Top 15 Best Japan Anime Stores. Have you picked one already? If so, after visiting and making an order from it, we would love to hear about your experience.