What is the perfect watch for you? For me, it's a G-shock. A watch that is durable, and specially speaks for who I am – someone who enjoys adventures. And here's my Complete guide to buy G-shock Japan.
Who produces G-Shock?
The name is Casio. G-Shock (Gravitational Shock) shock-resistant watch is a line of watches manufactured by the Japanese electronics giant, designed to resist shock and vibration. G-Shock is designed for sports, military and outdoor activities.
Are G-shock watches worth buying? 
Yes, they are. Casio G-Shock watches are one of the most durable, reliable, power-saving, and stylish watches you can find.
How do I choose the best watch for me?
For beginners, choosing a G-Shock can be difficult as the brand has a huge variety of models and different price ranges. But, the good news is, there are features for you to base on.
All G-shock watches must have: shock resistance, stopwatch, alarm, 12/24 Hour formats for digital display models, auto calendar.
Most G-Shock watches have: countdown timer, backlight (electro-luminescent or LED), world time, multiple daily alarms with snooze alarm (digital and analog-digital models)
Some of the cheapest G-Shock watches:
G-Shock DW9052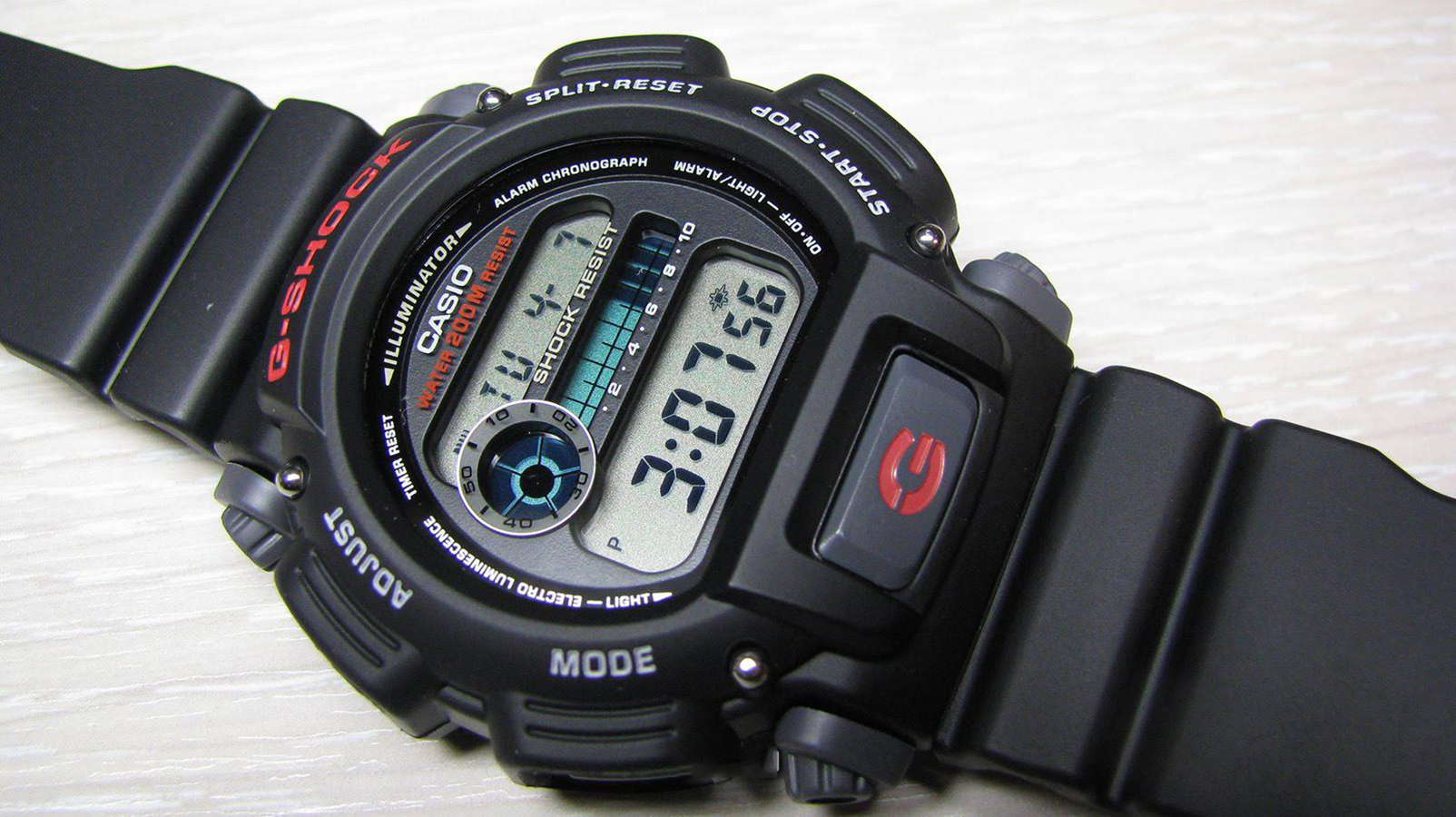 The G-Shock DW9052 is considered a classic G-Shock model that is still fancied by buyers to this day. Many see it as an old lion that is still quite a formidable force even after decades in the jungle.
Advanced features aren't included in the G-Shock DW9052, but its durability is incredible. The barebones feature is more than capable of outdoor use. This model is equipped with LED display, backlight, timer, alarm, stopwatch, auto-calendar, and an hourly time alert.
G-Shock DW5600E-1V
The G-Shock DW5600E-1V is a homage to the first-gen G-Shock watches with its square and robust design. It comes in with a relatively compact 43mm diameter square resin case. The smaller design makes the DW5600E-1V a perfect choice for those with small wrists. It also makes this G-Shock model comfortable when wearing.
When it comes to entry-level G-Shock watches, the DW5600E-1V is typically at the forefront of discussions. It comes with all the classic G-Shock traits but is sleeker and lighter. This model is not only shock-resistant but also comes with an ISO 764 class magnetic resistance rating. On top of all that is a 200-meter water resistance which makes it suitable for a lot of marine-based activities.
G-Shock G100-1BV
For those who prefer analog dials instead of digital ones, the G-Shock G100-1BV might just be for you. This analog-digital hybrid watch is also equipped with staple features such as a stopwatch and alarm functionality. In addition, it also comes with a dual-time feature making it even better for traveling. With 3-year battery life, and excellent magnetic resistance, it's really worth your consideration.
Alarm? Unlike the more advanced digital G-Shocks, these watches have just one rather than multiple alarms. The basic models are a medium size compared to the large and extra-large models that have become more popular recently. They are a good choice for those who are new to G-Shock or those who need an affordable watch for work or military use. See more of the cheapest G-Shock watches.
Now let's take a look at some of the more luxury choices.
1. GPW-1000GB-1A ($950)
The GPW-1000GB-1A comes with a number of advances like gold ion plated metal parts, the crown, the band loop, the buckle, and the buttons. It also has a GPS hybrid wave receptor that makes sure the time run correctly anywhere you go by adjusting standard time and summer time based on acquired information. Its Multiband 6 can accommodate six transmitters around the world: Japan, China, The U.S. and the U.K. It also features Triple G resist that is designed to endure the strongest forces.
2. MRGG1000B-1A ($3000)